Michael C. Moore
Kitsap Sun USA TODAY NETWORK
Joshua W. Scott not only wrote the screenplay for "Twelve Conversations," director Emanuele Valla's involving indie film that has its world premiere Nov. 29 at Kingston's Firehouse Theatre, he wrote the songs that seem to serve as a third main character.
The film, shot mostly in a since-defunct Port Townsend record shop (the legendary Quimper Sound), is a cobbled progression of interactions between two people who find each other (first conversation) and spend the rest of the film convincing themselves and each other that they belong together.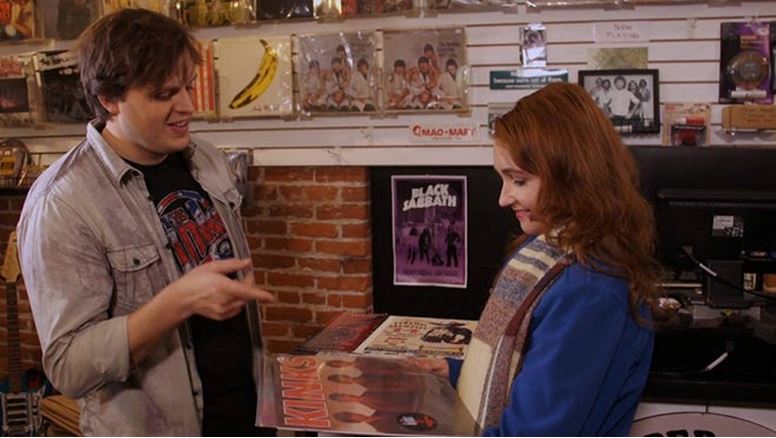 The interactions of Jane (Laurie Getschell) and Noah (Gabe Smith, the son of Firehouse proprietor Craig Smith) are linked together, gorgeously, by part-travelogue, part-music video sequences shot around Port Townsend, the Quimper Peninsula and the Point No Point lighthouse and featuring Scott's original songs.
As seen through the lens of cinematographer Claudio Coloretti, the Quimper is every bit as breathtaking a place as all of us nearbys already know it to be. But Valla and Coloretti, through some creative lighting and lingering close-ups of their cautiously lovestruck subjects, find ways to make the subterranean, brick-walled confines of the record shop just as warm and interesting as the world outside.
Scott's songwriting and singing echo, at various times, Mark Knopfler, Cat Stevens, John Wesley Harding (aka Wesley Stace) and/or Graham Parker. Snippets of lyrics from songs written a decade or more before the screenplay (his first, written at Valla's suggestion) often find their way into Jane and Gabe's dialogue, and bridge the time between the couple's increasingly less-random meetings.
Even with those interludes, the film seems copiously talky, and perhaps a little too long.
But it is filled with redemptive charms, both as simple as a few words of dialog and as sweeping as the opening aerial shot (via drone) of the Port Townsend waterfront in all its Victorian splendor.
Jane and Gabe are both in denial — Jane of a recent, devastating loss, Gabe of pretty much everything outside the door of the record shop. Their first meeting is sweet, and awkward, and filled with promise that you know is going to be fulfilled some way or another.
One of the strong points of Scott's screenplay is that it doesn't give you the ending you expect, but one that's both logical and satisfying even so. Some might argue that a plot twist or two concerning a history between the two of them is unnecessary, but at the same time, given the small-town setting, made perfect sense.
Getchell (luminous) and Smith (endearingly doofy) carry their massive workload effectively and believably. They're a real-life married couple (Smith hails from Indianola), but do an admirable job portraying Jane and Noah's what?-at-first-sight wannabe relationship. Port Townsend aficionados will appreciate the sprinkling of cameos — including since-retired Quimper Sound owner Mark Hering and even Valla himself, in a scene shared with Chuck Easton and the Blue Note Jazz Group — even though they don't always up the acting ante.
Valla's biggest achievement might be combining the film's back-and-forth elements — the conversations themselves (and, no, I didn't keep track to see if there were precisely a dozen), and the music-and-scenery sequences — into a cogent and credible narrative.
If you agree that he did, and perhaps even if you don't, there's plenty to like about "Twelve Conversations." It's a film locals will have a hoot watching, and folks around the rest of the world will peer at and wonder, "Where did they find this place?"
"Twelve Conversations" screens at 6:20 and 8:40 p.m. Nov. 29 at the Firehouse Theatre, 11171 Hwy. 104 in Kingston. Valla, Getchell, Smith, Poulsbo resident Scott and other members of the crew will be in attendance.
Information: 360-297-4849, firehousetheatre.com.